Scanning and Destruction Services
Full Lifecycle Document Digitization and Disposition
Data Federal's document scanning services assist customers in transforming their filing cabinets,  paper piles, and legacy records into a text-searchable archive of digital files. Data Federal's decade of document conversion, scanning, and destructions services have digitized a broad set of media to a diverse set of industries.
All sizes of Paper
Large Format Drawings
Microfilm and Microfiche
X-Rays
Slides
Specialized forms with zonal data capture requirements
Government
Legal
Medical
Human Resources
Accounting
Education
Banking
Insurance
High-Volume Scanning Services
Paper has quickly become an outdated and inefficient method of storing information that can negatively impact your business and add risk to ever changing security policies. Data Federal's document scanning solutions allows your organization to search, edit, and share securely on any device if required. Besides creating a more accessible system for your valuable data, digitizing your documents and official records also frees up storage space, and helps you meet your regulatory compliance requirements.
Benefits to Digitization via Document Scanning
You can now store your documents securely in the cloud for much less than the cost of physical storage.
You now have the opportunity to ensure business continuity in the event of a disaster by storing multiple working copies of your critical artifacts in remote data centers.
Electronic storage allows you to deploy sophisticated IT security policies and procedures to promote identity-based access controls, encryption, permissions management to control access to sensitive information, and 24/7 monitoring.
Enhance Data Call Response Times
Documents and Records can now be located and retrieved rapidly, dramatically reducing the time to respond to customer requests and data calls.
Improving internal processes are now possible as time limiting manual paper processes can be eliminated or automated, providing immediate access to any document in your archive via multiple access methods
Reclaim Your Physical Space
Eliminating unnecessary office clutter by storing your physical documents electronically opens up valuable physical space to higher value business functions.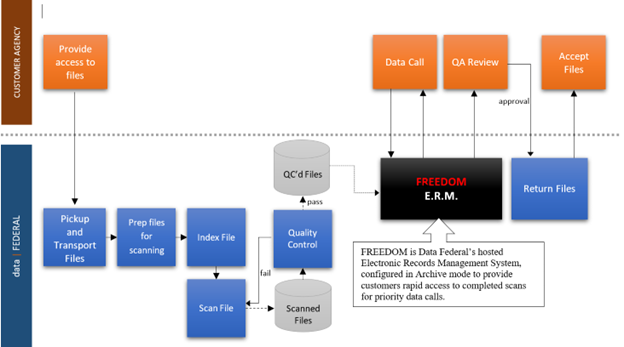 Document Disposition Services
Secure Shredding and Disintegration
Data Federal's secure document shredding service is an effective solution for any business that requires verified destruction of sensitive business documents. Data Federal performs their destruction services in-house and utilizes NAID® AAA certified document shredding equipment that is capable of shredding to the highest Level (Level 6) when security policies dictate, at scale.
Professional Shredding and up to Level 6 Disintegration at Affordable Costs
Leveraging Data Federal's document destruction services, your organization can ensure they are protecting the privacy of confidential information and meeting regulatory compliance.